A new edition of Letters of Ayn Rand is coming online — "really a new edition, not in name only," says Michael S. Berliner, editor of the 1995 print edition as well as the expanded online version. "This new edition is actually thirty percent longer by word count. There are more than fifty new letters and lots of new commentary, and the text is electronically searchable."
Monday, June 1, was the 25th anniversary of the print edition's publication. Whereas commentary in that volume was kept sparse for economic reasons (at 681 pages, the print version was hefty), the online version features more biographical information on the letters' recipients — including their connection with Ayn Rand, plus context that makes the letters more meaningful, and follow-up on what happened later.
"I tried to anticipate questions from readers, such as 'Who was that person?' or 'What ever happened with that issue?'" Berliner says. "For example, Rand wrote many letters to her publishers with suggestions on cover art, promotion and ad copy. The follow-up material will give the reader an idea whether they ever took her advice."
The very first letter is a missive to Lev Bekkerman, Rand's first love and the inspiration for the character Leo Kovalensky in We the Living. "In 1995, we didn't know very much about him," Berliner explains, "but since then we've learned more, from research in official Soviet files and from previously untranslated letters to Rand from her family. There was even a short letter from Lev among those nine hundred letters."
The first installment of the new edition is Chapter 1: "Arrival in America to We the Living (1926–1936)." The remaining chapters are slated for publication at regular intervals. The online edition is formatted with a split screen. On the right appears an image of each letter, whether typed or handwritten, that can be zoomed in for detail. On the left is a fully searchable transcript.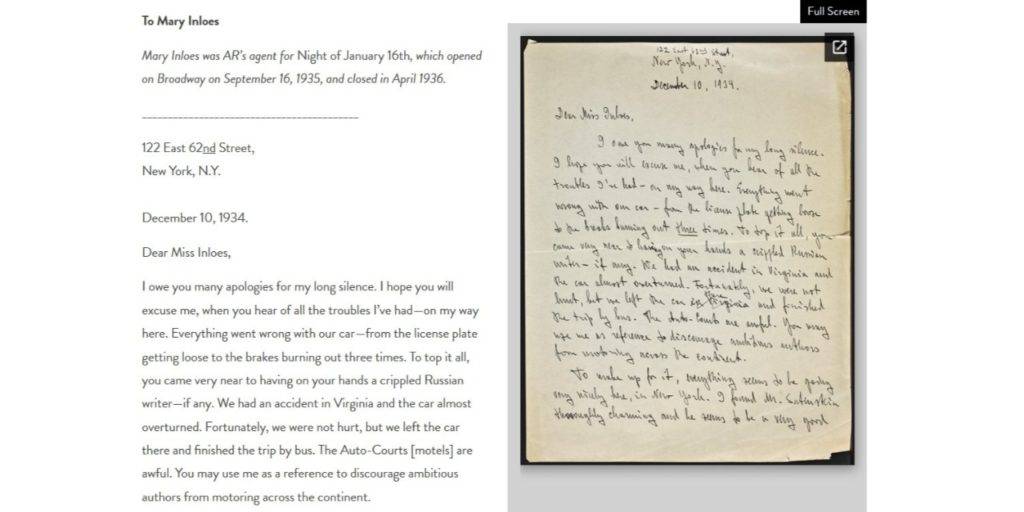 Readers are invited to email Berliner with further questions. "I'll do my best to answer them or find someone who can," he says. "I really look forward to those questions because I enjoy digging into historical puzzles."
Access the online edition here.
Readers seeking a superior print result may wish to download the free Just Read app
.
Do you have a comment or question?