Ayn Rand never wrote an autobiography (though she sat for many hours of biographical interviews in 1960 and 1961). She did, however, prepare her "musical biography." What can we discover from it?
We know that music was an important part of Rand's life. We know this from her discussions of music in biographical interviews, from her large record collection, from the accounts of friends who observed her enjoying music, and from the significant place of music in her novels (see, for example, my essay "The Music of We the Living" in Essays on Ayn Rand's "We the Living," edited by Robert Mayhew.) We also have her discussion of the esthetics of music in "Art and Cognition," an essay from her book on esthetics, The Romantic Manifesto. Music, she held, is a form of art that communicates emotions and is like a direct line to one's "sense of life."
"Sense of life" is Rand's term for each person's "pre-conceptual equivalent of metaphysics, an emotional, subconsciously integrated appraisal of man and of existence." One can think of it as a person's appraisal of man and his place in the world, held on an emotional level rather than on the level of explicit philosophic beliefs — which, in fact, many people never formulate.
According to Rand's heir Leonard Peikoff, sense of life was the standard by which she selected the favorites listed in her "musical biography." Because she organized the list according to her own age at the time each selection became a favorite, she obviously intended it to convey something about her own development. But we don't know exactly how she thought the music resonated with her own sense of life, a difficult enough problem with respect to any of the arts, but even more difficult with respect to music — because music expresses its ideas by means of sounds only, no words, no ideas expressed, no shapes, no human beings, no landscapes, no entities. Moreover, Rand held that it's extremely difficult for one person to name another's sense of life — impossible unless one knows the other intimately. Thus we cannot say precisely what these selections reveal about Rand's own sense of life.
Nonetheless, there are some things we can say about the music she selected. There's a wide range of types, from popular songs to classical, though the latter has many fewer entries than light, less serious music. The music varies in complexity, and there's a range of emotions from bright and spritely to contemplative and serene. But clearly all the selections are in the category of "emotionally positive," with many variations within. Importantly, none holds even a hint of fear, chaos, malevolence.
The world as Rand experienced it through her favorite music was a world that contained joy and triumph. What it did not contain was Russia. From the time that she was able to think in such abstractions, she despised both the mystical fatalism of Czarist Russia and the political collectivism of the Bolsheviks. She considered her homeland an "accidental cesspool of civilization." And her musical choices all implied at some level a rejection of the Russian view of life. She became, in fact, a dramatic example of her view that "man is a being of self-made soul." She was not a "product" of Russia or life under Soviet communism. She shaped her own soul by reaching outside Russia for values in the arts. This was a self-confident endeavor by which she reinforced her own benevolent outlook on life. Foreign artworks — not just music but films and works of literature, such as the novels of Victor Hugo — became the lifelines that would sustain her until she could escape the country of her birth.
As a child, Rand enjoyed listening to band music in the parks, and she also listened avidly to her family's extensive record collection, her grandmother having purchased one of the first record players in St. Petersburg. But Rand brought no records with her from Russia, nor did she write about what a particular song meant to her at a particular age.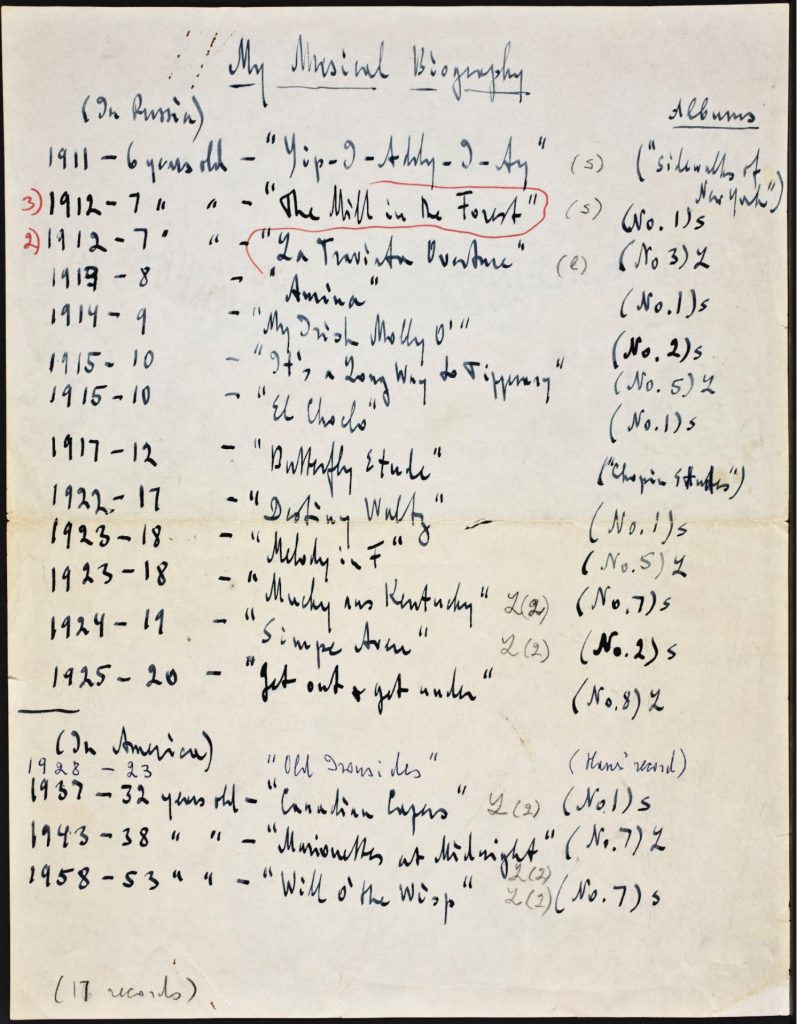 So that you can listen to and appreciate the music that Ayn Rand loved, we have compiled some background on each piece and provided links to the actual recorded versions that Rand herself owned. It turns out that friends of hers created a gift in the form of an LP (long-playing) record containing all seventeen items on Rand's "musical biography" list, compiled from her own records. Although we don't know how similar those versions are to the ones she heard at any specific age, these versions are the closest we can come to experiencing what Rand herself enjoyed. (Special thanks are owed to Cynthia Peikoff for access to the LP record and to Michael Duus, for his invaluable help in obtaining information about the compositions and recordings and for generously agreeing to host all the recordings on his website.)
1911: "Yip-I-Addy-I-Ay" Her first entry was for 1911, when she was six years old. During her youth, Rand recalled, her upper-middle-class family spent summers at a resort where "they had this military band playing in the park, all day long almost. And that's when I discovered all my early favorites." All those very first favorites were foreign, mostly German or American. "Yip-I-Addy-I-Ay" was a 1908 novelty song with music by John H. Flynn and lyrics by the prolific American composer Will D. Cobb, who also wrote the lyrics to "School Days" and "Waltz Me Around Again, Willie" (the #1 hit of 1906). This is a 1936 recording by Guy Lombardo and His Royal Canadians.
1912: "La Traviata prelude" The prelude to the first act of the Italian opera La Traviata by Giuseppe Verdi was listed as a favorite for 1912, when Rand was seven years old. Her grandmother, she reported, had "an enormous pile of records, and they were predominantly operas or lighter classics, not symphonies. I would literally run out of the room and pout when they played other kinds of music, like tragic opera or Russian songs. And what did I pick from those records? The ones I remember most were the drinking song from La Traviata and the overture [sic] from Traviata." Incidentally, one of Verdi's operas (probably Rigoletto) was the first opera Rand ever saw — in 1921 — and La Traviata, along with Aida and Rigoletto, is mentioned in We the Living. This is a 1941 recording by the NBC Symphony conducted by Arturo Toscanini.
1912: "The Mill in the Forest" This song ("Die Mühle im Schwarzwald") was written by Richard Eilenberg, a German composer of light classical music. This is the first of numerous examples of what Rand called "tiddlywink" music, which she enjoyed "conducting" with her own baton while moving about the room. Her article "Art and Moral Treason" in the Objectivist Newsletter (March 1965) contains this apparent description of tiddlywink music as "my kind of music: gay, melodic, rhythmically ingenious and projecting a totally unclouded sense of life." This is a 1929 recording by the Victor Concert Orchestra conducted by Rosario Bourdon.
1913: "Amina" Rand was eight years old, writing her first fiction and attending the first motion pictures shown in St. Petersburg, when this entry became a favorite. "Amina" (also known as "Egyptian Serenade"), a second tiddlywink entry, was composed in 1909 by Paul Lincke, originator of the Berlin school of operetta, which had more of a music-hall aura than did Viennese operettas. He also composed another Rand favorite, "The Glow-Worm," which became a big hit by the Mills Brothers in the early 1950s. This is a 1929 recording by Lincke and his Symphony Orchestra.
1914: "My Irish Molly-O" In 1914, the nine-year-old Ayn Rand read her first work of true romantic fiction, The Mysterious Valley, and decided to become a writer. "My Irish Molly-O" was written in 1905 (the year of Rand's birth) by the songwriting team of William Jerome and Jean Schwartz for the Broadway show Sergeant Blue. The song survives in the standard repertoire of traditional Irish pub music. This is a 1928 recording by the Flanagan Brothers.
1915: "It's a Long Way to Tipperary" The entry for 1915, when Rand was ten, is another Irish song, one of the most famous from World War I. It was written in 1912 by Harry Williams and English music-hall entertainer and composer Jack Judge and adopted by the Connaught Rangers, who were primarily Irishmen. This is a 1915 recording by Prince's Band.
Embed from Getty Images
1915: "El Choclo" A decided change of pace from Irish to tango, "El Choclo" ("The Sweetcorn") is the best-known composition by Argentinean Angel Villoldo, known as "The Father of Tango." The melody of "El Choclo" was used for the hit song "Kiss of Fire," whose 1952 recording by Georgia Gibbs reached #1 on Billboard for seven weeks. This is a 1928 recording by the International Novelty Orchestra conducted by Nat Shilkret.
1917: "Butterfly Etude" This 1834 composition (Op. 25, no. 9 in G flat major) by Fredric Chopin became one of Rand's favorites in the year of the Russian Revolution, when she was twelve years old. Noting that her love for classical music developed primarily after her move to America, Rand said that "the only exception" was Chopin, whom "I liked even in Russia. I heard it played in private homes . . . . My sister [Natasha], who was the musician, played it. And there were others, at parties for instance. And Chopin was very often played, and some of those, particularly the mazurkas, I liked very much, some of the waltzes. But, concertos or serious, you know, symphonic music, I didn't really learn to hear until quite late here in America. Oh, the 'Butterfly Etude' was my favorite from Russia." Although in the "classical" category, "Butterfly" has a definite tiddlywink quality. This is a ca. 1954 recording by Edward Kilenyi.
1922: "Destiny Waltz" Rand's musical biography now skips five years to 1922, when she was seventeen, having entered Petrograd State University after the family's return from the Crimea to escape the Civil War. "Destiny Waltz" was composed in 1912 by Sidney Baynes and has had a long life. A popular dance number, it was used in the 1939 RKO film The Story of Vernon and Irene Castle, starring Fred Astaire and Ginger Rogers, and was the theme song for the radio serial One Man's Family from 1932 to 1941. It's included on recorded collections of music heard on board the Titanic the night that the ship sank. It is not only Rand's favorite from 1922 but one that she describes in We the Living, being played by Lydia Argounova: "'Destiny Waltz' was slow and soft; it stopped for a breathless second once in a while and swung into rhythm again, slowly, rocking a little, as if expecting soft, billowing satin skirts to murmur gently in answer, in a ball-room such as did not exist any longer." This is a 1932 recording by the Edith Lorand Orchestra.
1923: "Melody in F" Written in 1890, "Melody in F" was Anton Rubinstein's most famous composition. Because of his romanticism, Rubenstein was often at odds with mainstream Russian composers, who were more inclined to nationalistic music. He was a favorite of the Russian royal family from his boyhood, and in 1861 he organized the St. Petersburg Conservatory, where Ayn Rand's oldest sister Natasha was later to study piano. This is a 1943 recording by the Columbia Broadcasting Orchestra.
1923: "Mucki aus Amerika" Written in 1919 by Robert Stolz, this one-step tells the heartbreaking story of a young Austrian who moves to Kentucky for two years and returns corrupted by his years in America. Stolz was an Austrian conductor and composer, often called "the last of the waltz kings," who wrote more than sixty-five operettas and musicals, more than a hundred film scores, and hundreds of songs over a long career — he died in 1975 at the age of ninety-five. His most famous composition is probably "Two Hearts in Three-Quarter Time," from the operetta of the same name. "Mucki aus Amerika" (sometimes called "Mucki aus Kentukky") is far from famous — in fact, the main Stolz reference work lists no recordings of the song. "Mucki aus Amerika" must have been a special favorite, because "Mucki" was among the family's nicknames for Rand, as we learned from the letters her family sent to her from Russia. She was eighteen years old when this song became a favorite. This is a recording by Leonard Peikoff, who played it from sheet music she had brought from Russia, recording it as a surprise for her. According to Peikoff, she was delighted with his version but observed that his interpretation was not the same as that by the Russian band she heard in 1923.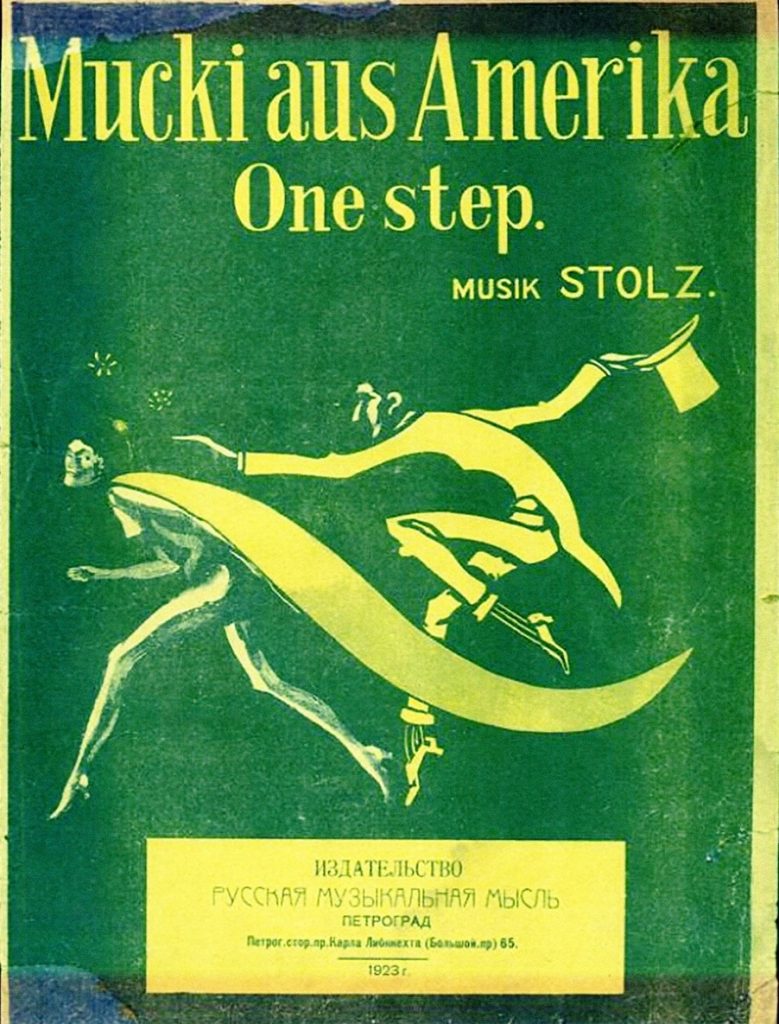 1924: "Simple Aveu" The nineteen-year-old Ayn Rand graduated from Leningrad State University and then entered the State Technicum for Screen Arts, the Soviet film school, intending to learn screenwriting as a stepping stone to a career as a novelist. "Simple Aveu" ("Simple Confession") was written in 1879 by French composer Francis Thomé. This is a 1926 recording by cellist Alfred Wallenstein.
1925: "Get Out and Get Under" Rand studied at the film institute for only the 1924–25 academic year, because her plans to leave for America were realized in October 1925 (Rand was twenty years old) when she received a passport that enabled her to escape the iron control of the Soviet government. This song's full title is "He'd Have to Get Under — Get Out and Get Under (To Fix Up His Automobile)." Written in 1913 by Maurice Abrahams, Grant Clark and Edgar Leslie, it was a hugely popular song about the fragility of automobiles and is still used to evoke America in the second decade of the twentieth century. Get Out and Get Under was also the title of a 1920 Hal Roach film starring Harold Lloyd. This is a 1913 recording by the Victor Military Band.
1928: "Old Ironsides" In America, the young woman known in Russia as Alisa Rosenbaum had become Ayn Rand, landing a screenwriting job with director Cecil B. DeMille and meeting her future husband, Frank O'Connor. By 1928, however, at age twenty-three, she was struggling to find odd jobs (though she would soon begin a three-year employment in the wardrobe department at RKO Pictures). The song she knew as "Old Ironsides" is actually titled "Musketiermarsch" ("Musketeer March") or "Drei Musketier" ("Three Musketeers"). The composers are Hugo Riesenfeld, Ralph Benatzky, Rudolf Schanzer and Ernst Welisch. Riesenfeld wrote and arranged the music for more than one hundred films, including DeMille's The Ten Commandments (1923) and Old Ironsides, a 1926 Paramount silent film about the Barbary pirates starring Wallace Beery. This song was likely written for the 1927 Austrian release of Old Ironsides. This is a version by the Comedian Harmonists.
1937: "Canadian Capers" The musical biography now jumps nine years to 1937 (Rand was thirty-two), when she and Frank O'Connor had moved to New York and were living on the not inconsiderable royalties from her play Night of January 16th. Rand was also hard at work on The Fountainhead. Another example of her tiddlywink music, "Canadian Capers," was written in 1915 by Gus Chandler, Bert White and Henry Cohen. On recording liner notes, it is referred to as both a fox-trot and a tap dance. "Canadian Capers" was also heard in the 1949 Warner Bros. film My Dream Is Yours, with Doris Day and Jack Carson — coincidentally the same year that Warner Bros. released The Fountainhead. This is a 1931 recording by pianists Victor Arden and Phil Ohman.
1943: "Marionettes at Midnight" ("Marionetten um Mitternacht") This quintessential tiddlywink piece was written in 1935 by Kurt Noack, German composer of popular music, and is Rand's selection for the year that The Fountainhead was published (she was thirty-eight years old). Because the recording in Rand's collection was privately made, and no commercial recording can be found, we lack information about that recording, other than that someone had handwritten "Maximillian's Orchestra" on the label.
1958: "Will O' The Wisp" In 1958, when Rand was fifty-three years old, she produced a revised edition of We the Living, soon to be published by Random House, bringing to readers a book that had been out of print for more than twenty years. The original German title "Will O' The Wisp" is "Irrlicht." This final entry, appropriately another tiddlywink piece, is a song written in 1934 by German composer Herbert Küster. It is unclear when Rand first heard it, but in 1967 she told musician Duane Eddy that she had been playing her worn recording for many years. "Will O the Wisp" was certainly a special favorite, for Eddy reports (see his interview in 100 Voices: An Oral History of Ayn Rand) that she told him it was a song that most profoundly illustrated her conception of how music should be and that it expressed human joy — musically. In addition, Eddy said, it represented the spirit of "The Song of Broken Glass," a fictional song that plays a prominent role in We the Living (written before "Irrlicht" was written). In the novel, "The Song of Broken Glass" meant promise, benevolence, an image of life as it ought to be. For the novel's heroine, Kira, it evoked the West — the spirit of a free, productive society, which stood in stark contrast to the grayness and horror of life in Soviet Russia. This is a 1935 recording by Otto Dobrindt and his Piano Symphonists.
Readers seeking a superior print result may wish to download the free Just Read app
.
Do you have a comment or question?