Subscribe to the New Ideal podcast here.
---
On May 7, 1943, as World War II raged across the globe, Ayn Rand's novel The Fountainhead was published in America. Due to sparse reviews and minimal publicity, sales were initially low. Then an unusual thing happened, paralleling Rand's description of the gradual success of the novel's hero, Howard Roark: "It was as if an underground stream flowed through the country and broke out in sudden springs that shot to the surface at random, in unpredictable places." As word-of-mouth readership spread, Rand's novel began appearing on best-seller lists more than a year after publication. By May 1945 it was #1 on the Los Angeles Times local best-seller list, and by August it reached #6 on the New York Times national best-seller list, remaining on that list (with few interruptions) until March 1946.1
Sensing a commercial opportunity, the syndication company King Features approached Rand in mid-1945 proposing an illustrated condensation of The Fountainhead to be published in newspapers worldwide. It would be part of a series of such condensations that the company had launched in 1942 and planned to resume after an eight-month hiatus due to wartime paper shortages.2
Rand enthusiastically embraced this opportunity for international publicity, bringing to bear the skills and insights she had developed from many years of writing screenplays, dramas and novels. Even though the condensation would contain only 7 percent of the words she had spent years carefully shaping into a challenging novel of ideas, she was delighted with the results.
Here's how it happened. (Warning: plot spoilers ahead.)
Negotiation: "A condensation true to the theme"
"I like the idea," Rand told her agent, Alan Collins, upon learning of the syndicate's proposal. But as one would expect from the creator of the uncompromising Howard Roark, she insisted on having full advance approval of visualization, outline and content.3 "My only interest in such a strip is the publicity it would give my book," she explained to Collins. "Therefore it must be the right kind of publicity, a condensation true to the theme, style and spirit of the story. If the condensation makes the book appear garbled, weak or pointless (through careless choice of incidents), it will do positive harm in discouraging prospective readers." She also insisted that Roark's courtroom speech be included. Noting her inexperience with syndication, she added: "I hope King Features won't find this unreasonable."4
King Features had approached Collins with its proposal in July 1945, offering $1,000 as a guaranteed advance against 50 percent of syndication income.5 King Features would hire the writer and artist and pay all costs of syndication. By August 1945, as negotiations continued, King Features raised its guarantee to $1,500, proposing 25 daily installments with 500 words each — a total of 12,500 words — while insisting that the courtroom speech be limited to one installment.6
Rand was initially disappointed with the space allotted for the speech: "I could do a swell job of condensing Roark's speech into 1,000 words — that's what I did for the screen-play version," she told Collins. But on reflection, she conceded that "two days of a theoretical speech might be too much for this kind of condensation."7
Rand was willing to allow the syndicate's in-house writer to make the necessary narrative choices for condensing the novel. "I think they can do a good job of it," she told Collins, "if the writer keeps his narrative as hard and simple as possible and goes easy on the adjectives." Rand, who had much experience writing synopses and scenarios for Hollywood studios, said that if the deal went through, she wanted to send specific suggestions and advice to the writer: "I know all the tricks of how these things are done."8 "I hope the deal does go through," she wrote to Collins. "I'm curious to see the thing illustrated."9
The deal did go through — King Features accepted all of Rand's conditions. By contract, she acquired the right to approve the artist's proposed visualizations of the characters, to approve a general outline of the scenes, and to approve and edit "every word" of the condensation. She was also guaranteed that Roark's courtroom speech would occupy at least one day of the series.10
Condensation: "The toughest part of a tough job"
Unlike an ordinary comic strip, which includes word-balloons and written descriptions inside the comic panel, the King Features approach was to display a wordless three-panel comic strip with a brief caption beneath each panel, accompanied by long passages condensed from the novel itself. The task of condensing Rand's 754-page novel into a mere 12,500 words (roughly 50 such pages) fell to a King Features writer named Fred Dickenson.11
On October 18, about six weeks after the contract was finalized, Dickenson sent his first batch of drafts to Rand for review. "You will not, I am sure, be surprised to learn that it is one of the most difficult condensation jobs in the twenty best-sellers I've done," Dickenson wrote. "I'd be glad to have you make any editing changes you think necessary. The only thing to remember is that anything added one place must be subtracted elsewhere in the same strip as these are written to fill the space exactly."12
The surviving correspondence in the Ayn Rand Archives does not indicate what edits Rand made to the first two batches, but there were surely some, because Dickenson subsequently asked Rand to include two carbon copies along with her rewrites, so that he wouldn't have to retype them for the printer and the artist. Rand made substantial edits to the third batch, explaining her reasoning in a letter to Dickenson: "I have made changes mainly to clarify the very complex psychologies and motivations which we need here in order to make the final tragedy understandable." These installments covered Dominique Francon's marriage to Gail Wynand as well as Roark's budding friendship with Wynand. She closed that letter with a salute to her fellow writer: "All my best wishes to you (and my sympathy) for the toughest part of a tough job — our last two weeks' copy."13
In her edits to the fourth batch, Rand deleted parts that were "inessential to the progression of the story" so as to make space that was "badly needed for the exposition of Roark's motives in agreeing to design Cortlandt." Unless Roark's reasons are made clear, Rand explained, his dynamiting of the building "will appear as an act of senseless brutality." She ended up reworking all of chapter 19 and the beginning of chapter 20. And in chapter 24 she inserted the issue behind the public fury against Roark, because "otherwise the readers won't understand the trial nor Roark's speech." Rand left intact Dickenson's "continuity and choice of incidents," complimenting him for an "excellent job of selection in what was probably the hardest part of the book to condense."14
Rand herself condensed Roark's courtroom speech, a task that was more challenging because it needed to be even shorter than she expected. King Features' first proposal was for a total of 25 daily installments containing 500 words each, for a total of 12,500 words.15 But at some point, the number of installments expanded from 25 to 30, while keeping the total word count at 12,500. That meant each daily installment would hold only 417 words on average. In her letter transmitting the condensed speech to Dickenson, she wrote: "It contains exactly 407 words (I've counted them). This is the best I can do — I was supposed originally to have 500 words for the purpose. . . . The speech itself can't be cut any further and present any semblance of the book's theme."16 To make it fit, Rand had cut almost 90 percent of the speech.
Visualization: "Nothing but the bare essentials"
Rand was keen to ensure that the serialization would be true to her artistic vision not only in the story's condensation but also in its visualization.
Before signing the contract, Rand reviewed samples of previous King Features serializations. These samples must have included some drawn by Harold (Hal) Foster, whose Prince Valiant comic strip had debuted in 1937, because we know that Rand expressed an initial preference for him or "someone with a still harder and simpler style of drawing."17 However, King Features ended up retaining Frank Godwin, a comic strip artist with decades of experience. Calling Godwin a "leading illustrator," Dickenson told Rand that "we have been at some pains to get him."18
Just as the project was getting underway, Rand and her husband, Frank O'Connor, arrived by train in New York City from their home in the San Fernando Valley area of Los Angeles for an extended stay. This allowed Rand to schedule personal meetings with both Dickenson (October 4) and Godwin (October 10). In these meetings, Rand probably shared the essential points on artwork she had previously written to her agent. The illustrations, Rand had told Collins, should be kept "SIMPLE," explaining: "My whole book is done by understatement — and I'd like the strip done the same way, if possible. It should be hard, simple, clear-cut, stylized, underdrawn — nothing but the bare essentials, as uncluttered as possible."19
Rand's contract gave her the right to approve in advance the "artist's proposed visualization of the characters" before the actual drawing of the strip. Presumably Godwin's vision for the serial passed muster, as there is no evidence that Rand vetoed or required changes to any of Godwin's illustrations, except as her text edits required him to prepare different illustrations. So, for example, textual changes to chapters 19 and 20 (described above) necessitated four new images. "I suggest the following pictures" for chapter 19, she wrote to Dickenson: "a scene of Keating begging Toohey for help; a scene between Roark and Keating; a scene where Toohey laughs at the drawings brought by Keating." The final product includes two of these scenes, executed by Godwin just as Rand had suggested, and another that was consistent with her guidance. For the first image in chapter 20, Rand suggested "a good picture of Roark, Wynand and Dominique on the shore of the lake — or of Wynand and Dominique at the fireplace."20 Godwin chose the first option. For the very last illustration of the series, Rand asked that Godwin show "just the figure of Roark against the sky. I would like so much to see it ended that way."21 Again, Godwin complied.
A month before the serial was released, Rand saw proofs for the first week's installment. "The drawings are fine," she told Dickenson, "and I was very pleased with the looks of the whole thing as set up."
Culmination: "A swell job on an incredibly difficult undertaking"
On December 2, Rand wrote to Ross Baker, sales manager at Bobbs-Merrill, The Fountainhead'spublisher: "Wait till you see the King Features condensation with the drawings. I've seen the advance proofs of the first week. It's excellent." Noting that the first installment was scheduled to begin publication December 24, she described it as a "nice Christmas present for us."22
Rand was especially pleased with the description of The Fountainhead that appeared above the illustration panel for all thirty installments. "Did you notice their caption for the story?" she wrote to Baker. "'Based on the great, best-selling novel of a man who dared to pit his genius against the world.' They did that — I had nothing to do with it — I never discussed the subject of a caption with them and never saw it until I received the proofs. There is what I consider good salesmanship. They knew it was a man's story — and they stressed its real theme in a dramatic way."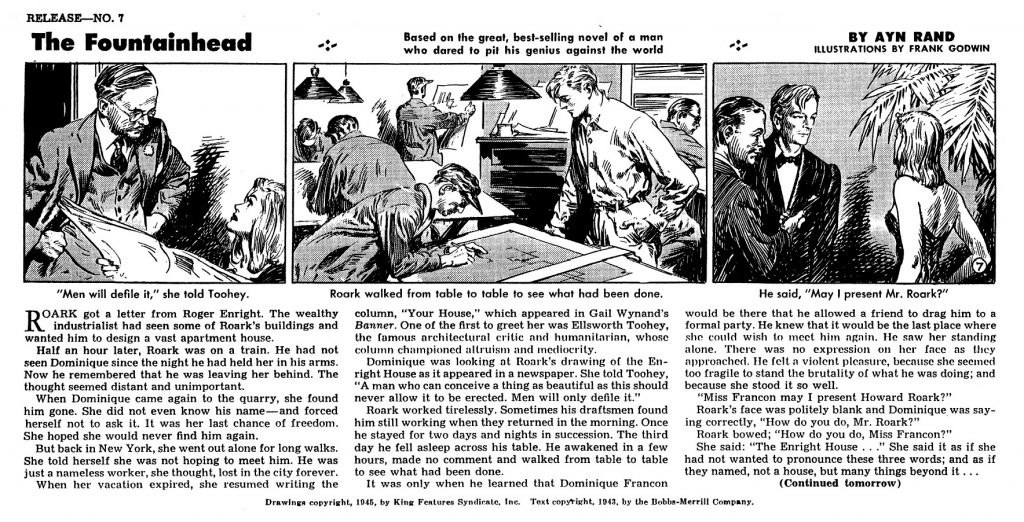 Release No. 7 of The Fountainhead
(Copyright King Features Syndicate, Inc.)
Rand very much liked Godwin's drawings. "Tell the family to look for the illustrated condensation of 'The Fountainhead' in the Hearst papers beginning December 24th," wrote Rand to her niece Mimi Sutton. "I think they'll get a kick out of it — because the artist has done a wonderful job of making Roark look like Frank [O'Connor]. I've seen the advance proofs — and everybody here gasps, seeing them, without any warning from us: 'Why, it's Frank!'"23 Rand later asked Dickenson to send her an additional set of proofs for a friend, and she identified four drawings that she wanted to frame for the walls of her study.24
Rand experienced the illustrated Fountainhead in the pages of the Los Angeles Evening Herald-Express beginning on December 24, 1945. It also appeared in thirty-five other newspapers in such cities as New York, Chicago, Detroit, Baltimore, and San Francisco, and abroad in Caracas, Venezuela; La Paz, Bolivia; and Buenos Aires.25 The series was designed to appear six days a week, Monday through Saturday, for five consecutive weeks.26 In the first three months of 1946, the condensation brought in gross revenues of $5,473.75, fully justifying the syndicate's $1,500 advance to Rand.27
Rand and Dickenson closed out the project with expressions of mutual respect. "It's been grand working with you," Dickenson wrote to Rand. "You are now a newspaperwoman with a byline on your first article — no mean feat."28 Rand in turn offered Dickenson her "compliments and thanks," adding: "You've done a swell job on an incredibly difficult undertaking — so pin a little medal on yourself from at least one grateful author."29
In March 1946, Rand wrote to Dickenson: "I enjoyed very much watching the strip run here, in the Los Angeles Herald-Express. On the first day they announced it with a headline across the bottom of their front page. . . . I thought that was really swell of them. I enjoyed being a 'newspaperwoman with a byline' for thirty days (courtesy of Fred Dickenson). I always wanted to be a newspaperwoman, anyway."30
Marquee image: "Then Roark remembered . . ." Drawing by Frank Godwin from Release No. 1 of The Fountainhead (Copyright King Features Syndicate, Inc.)
Do you have a comment or question?
Endnotes